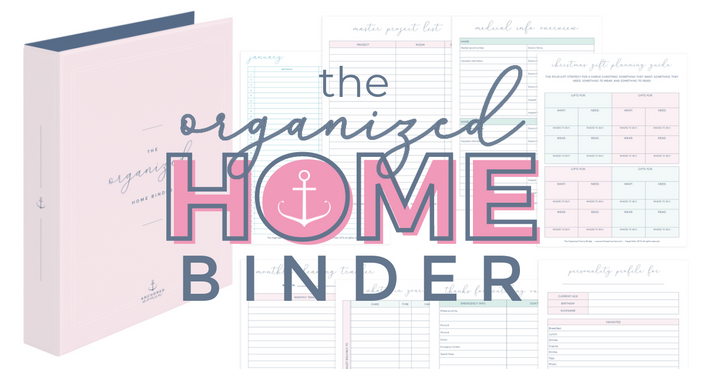 The Organized Home Binder
A printable home management system!
The Organized Home Binder is your home base for everything you need to manage your home well. Once place where you can organize your important paperwork, manage your finances, track your medical expenses, make notes for the babysitter, and more!
Each printable is simple & purposeful, designed to help you feel more organized, more prepared, and less stressed
What's included?
There are 8 sections in all, giving you a complete set of printables to create your own Home Management Binder!
Let's take a look at each individual section...
CALENDARS:
What's included:
12 monthly calendars
12 perpetual calendars
How to use this section:
The monthly calendars can serve as a broad overview of your year - use them for planning long-term, as well as monthly & weekly events! The perpetual calendars are used for compiling birthdays and anniversaries - so you never forget to send a card or text! I also include my kids' school calendars, and any flyers for upcoming events in this section.Cleaning & Home Improvement:
CLEANING + HOME IMPROVEMENT
What's included:
Monthly Cleaning Checklist (with tasks for days, weeks, & months)

Monthly Cleaning Checklist (blank)

Monthly Cleaning Chart (blank)

Kid's Weekly Chore Chart

Master Project List

Dream Project List
How to use this section:
The home base for all of your cleaning routines, this section is where you can keep up with your daily, weekly, and monthly cleaning tasks. It's also the home for your master project list, and a place where you can dream about projects or renovations you might like to complete if there's extra time or money in the future! Plus, print out the chore chart for each of your kids and hang it on the fridge for them to complete each week!
FINANCES
What's Included:
Family Budget Worksheet

Important Accounts

Spending Tracker

Bill Tracker

Automatic Payments

Debt Payoff Tracker
How to use this section:
This section of your Organized Home Binder is meant to be a place where you can keep tabs on your financial records, payments, expenses, and bills. Track how fast you're paying off your debts, keep tabs on your spending, and have a central location where there's a record of your automatic payments. This is especially helpful when only one spouse handles the finances, but the other suddenly needs some information. Have it all here at your fingertips!
MEDICAL
What's Included:
Medical Info Overview

Medical Record (2 versions - blue & pink)

Immunization Record (2 versions - blue & pink)

Medical Expense Tracker

Notes
How to use this section:
The medical section is a great place to keep your medical records, receipts, bills, and more. If you have a child with special medical needs, there's a place to keep notes as well as track their treatments. If you need to track every medical expense to report to insurance, this is the place for that! It's so easy to lose track of all of those important papers - this section serves as your one-stop-shop to keep all of that info

.
HOLIDAYS + SPECIAL OCCASIONS
What's Included:
Christmas Gift Planning Guide (2 versions - standard & 4-gift strategy)

Christmas Card List

Holiday Menu Planner

Holiday Menu Shopping List

Black Friday Shopping Plan

Thank You Notes

Party Planner
How to use this section:
I am maybe the most excited about this section! It's perfect for planning holiday meals ahead of time, shopping for gifts throughout the year to take advantage of sales, and remember those you want to send cards to, or have received gifts from. When the holidays roll around, you won't have to scramble to plan or shop or anything - everything you need is right here in this section! Stress-free holidays? Yes, please!
FAMILY
What's Included:
Babysitter Notes

Family Info at a Glance

Memory Tracker

"Kids Say The Darndest Things" Tracker

Personality Profiles (in 4 colors, one for each child)

Milestone Trackers (in 4 colors, one for each child)
How to use this section:
There's so much to keep track of when it comes to raising a family. This section is the perfect place to jot down those memories you don't want to forget, or write down the funny things your kids said today. Plus, if you're leaving your kiddos with a babysitter, the papers in this section will leave her with everything she needs to care for your babies well. And lastly, you'll want to use that "Family Info At A Glance" page as a reference when you're filling out paperwork for school or the doctor's office!
PERSONAL
What's Included:

Book List

Goal Setting

Bucket List

Projects to Finish

Lined Notes Page

Dot Grid Notes Page
How to use this section:
The Personal section is just for you, mom. Keep your notes here, jot down an ongoing list of projects that YOU want to work on (like compiling photo albums, or finally finishing that scarf), list out the books you want to read, and track your goals & bucket list. This is a place where you can write down all those random things you just don't want to forget.
IMPORTANT EXTRAS
What's Included:
Passwords

What's In Your Wallet? (A place to record your wallet's contents, in case it gets lost or stolen)

In Case of Emergency (Vital information needed in case of a loved one's death)
How to use this section:
This section holds a few important worksheets - a list of your passwords, the content of your wallets (in case they get lost or stolen), and a paper with everything your loved one may need to know in case something happens to you, or vice versa. These pages will give you peace of mind, knowing that the important info is within reach. This is also a great place to add your own important documents - whatever is crucial to how your family functions.
The Organized Home Binder is a digital product, meant to be printed at home. No physical product will be shipped to you.