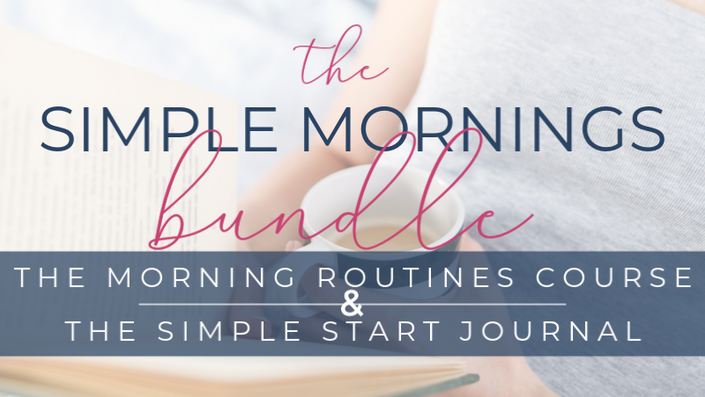 The Simple Mornings Bundle
Get our Morning Routines Course & the Simple Start Journal together, for a great deal!
You'll get our entire course on creating a morning routine that sticks, PLUS the Simple Start Journal to help you walk out that routine each morning!
The Simple Start Journal is a morning journal for busy women. It's the simple, straightforward resource you need to be able to do the things that matter most each morning.
Every day, you'll find a section for:
Getting in the Word: You're given space to take notes on a specific passage of Scripture, a place to write out few key verses from that passage, and a space to jot down your prayers.
Getting focused on your priorities: You've given a question to answer & space to note your three most important tasks of the day.
Getting a short workout in: You're given a short, simple workout to complete each day. These workouts can be completed with no extra supplies – just your own body and a small space. There's a different workout for each weekday!
Instead of juggling a basketful of tools, The Simple Start Journal is one comprehensive resource that covers all areas of a simple morning routine: reading & writing Scripture, setting priorities, and completing a short workout, every single weekday!