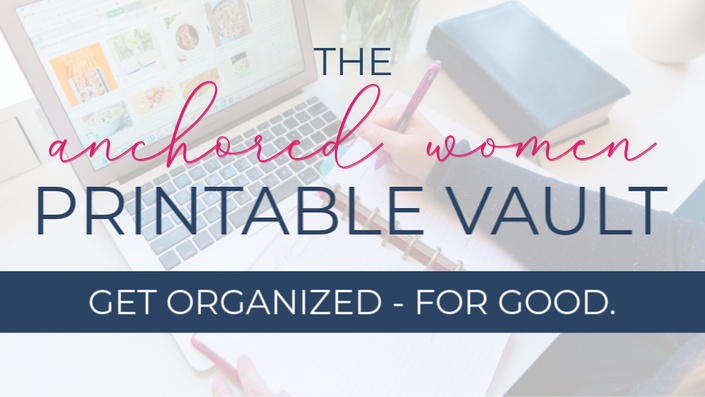 The Anchored Women Printable Vault
Beautiful printables to help you organize your life, home, and family!
Are you ready to simplify every area of your life with printables that are beautiful AND functional?

I've got you covered! Introducing our newest printable collection:
The Anchored Women Printable Vault!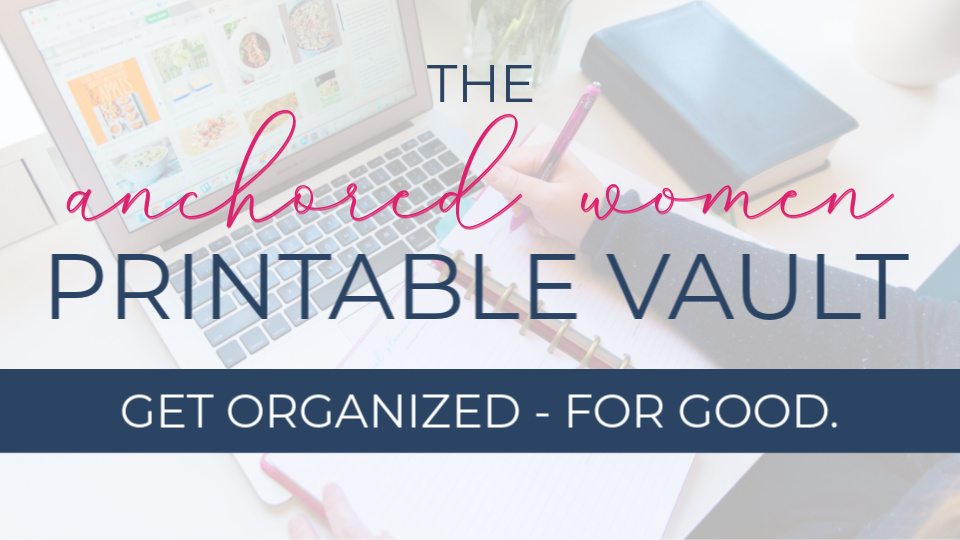 Our Printable Vault is the ULTIMATE collection of printables that are beautifully designed, color coordinated, AND incredibly practical. These printables will help you organize every single area of your home + family life!
And the best part?
The AW Printable Vault is a living collection of printables, meaning we will be creating and adding new printables to the collection on a regular basis! You can even request specific printables to be made!
It's one single purchase, and lifetime access - to everything included in the vault right now AND in the future!
Are you ready to get organized, for good, with the AW Printable Vault?!
WHAT'S INCLUDED IN THE ANCHORED WOMEN PRINTABLE VAULT?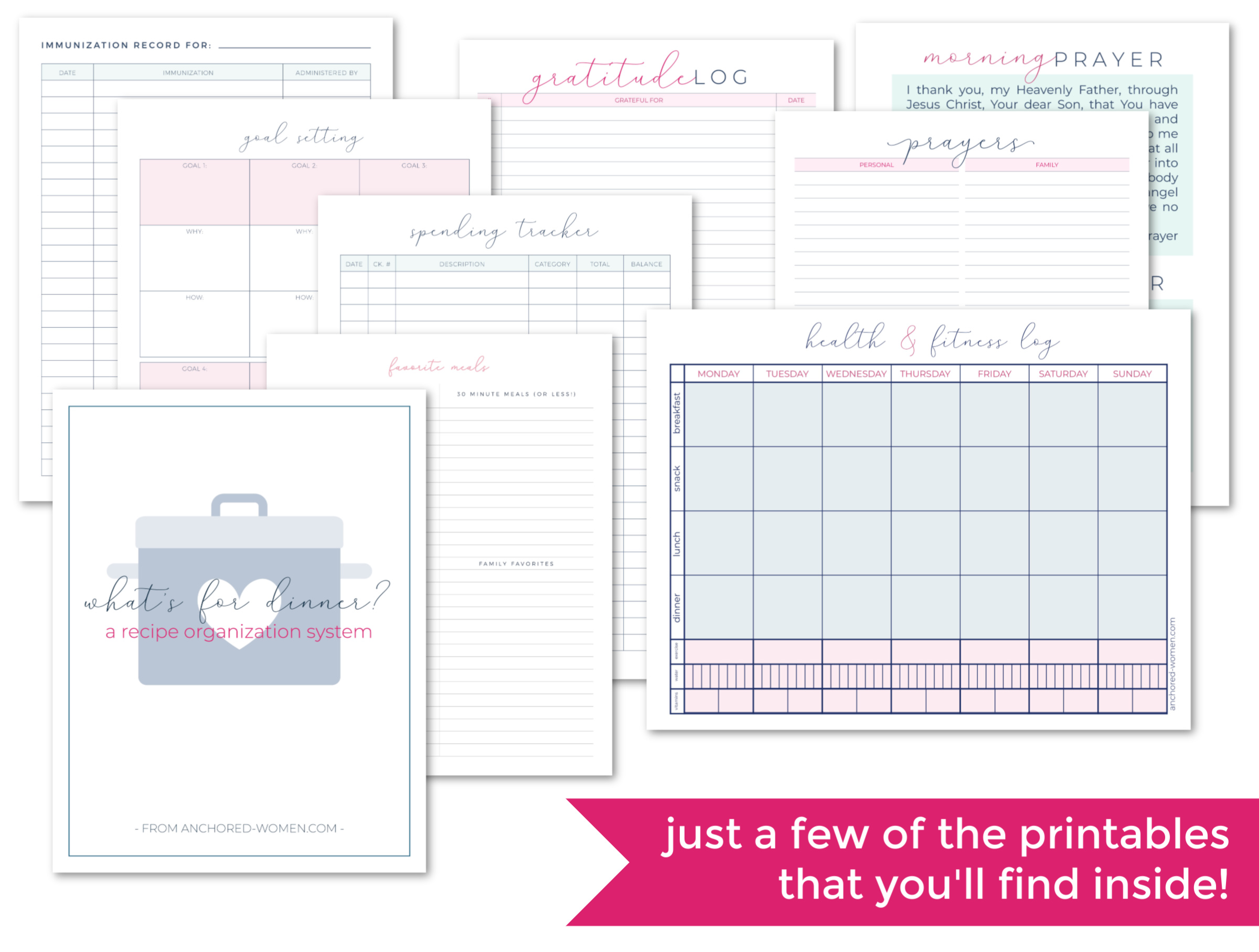 Over 100 printable pages, all color-coordinated so that your home organization will always have a cohesive look! You'll get printables to help you organize your:

Planning + Goal Setting

Family Life

Personal Life

Faith + Prayer Life

Finances

Health + Wellness

Cleaning + Organizing

Food + Meal Planning

Holidays + Celebrations

and more!
Complete systems to help you dominate a specific area of your home life, including:
The Anchored Women Meal Planner

The What's For Dinner Recipe Organizer


The Anchored Faith Journal

The Anchored Marriage Resource Pack

And more to come!
This collection is valued at over $200, PLUS you'll have the ability to request that specific printables be created in the future!
Check out everything currently inside the Printable Vault in the detailed list below!
Course Curriculum
Welcome to the AW Printable Vault!
Available in days
days after you enroll
Planning + Goal Setting
Available in days
days after you enroll
This Printable Vault is everything you need to get your home and family life ORGANIZED, for good! With these printables you'll be able to:
Meal plan like a pro, every week!

Manage your finances with ease!

Keep track of your prayer requests & the way God answers!

Establish systems for cleaning & decluttering!

Teach your kids to help care for for your home!

Always be prepared for birthdays and anniversaries!

Intentionally walk into the holiday season with a plan!

And so much more!!
Valued at over $200, with even more printables being added on a regular basis, you can get lifetime access to this entire collection for just $67!
Are you ready to get organized, for good?
Frequently Asked Questions
How long do I have access?
Forever! The Printable Vault is a one-time purchase that gives you lifetime access to everything currently in the vault, plus everything we create in the future!
What's NOT included in the vault?
The Printable Vault includes all of our printable resources that are currently for sale in our shop (or have been for sale in the past!), except for the S.O.S. Planner. The Printable Vault does not include our membership or our courses. It's simply a complete collection of practical, printable resources that you can put into use right away!
I don't have a printer - can I use these printables digitally?
Absolutely! All of our printables can be used as digital files as well. Many of our customers like to use these on the Good Notes app, so they can write right on the "page", just as if they had been printed out!
How do I print these printables?
These printables are digital files that are meant to be downloaded to your computer, and then printed at home. You'll be able to print immediately! If you'd rather send them out to be printed, you can send them to your local office supply store, or (our favorite!) bestvaluecopy.com! We include a print release for this purpose.
Can I print these off for my friend or family member?
These printables are for your personal use only. You can print as many as you want, as many times as you want for yourself and those in your immediate family (those living in your home). If you have a friend or extended family member who would like to use these printables, they will need to purchase their own access to the Printable Vault, just like you did! (We do offer a referral program, so email us if you're interested in telling your family and friends about it! You'll receive a portion of their purchase!)
Can I make a request?
Absolutely! We've included a form that you can fill out anytime you have an idea for a new printable or printable kit to be created. We will be adding to the vault on a regular basis, and will try our best to get your request in our lineup!
What size are the printables?
Every printable in this vault is designed to be printed on standard 8.5' x 11' paper. As such, they can also be printed half-size. (Printing instructions are included!)
Can I get a refund if I change my mind?
Because of the nature of digital content, this resource cannot be returned once viewed or accessed. We do NOT issue refunds for the Printable Vault.
Ready to get organized, for good? Get instant access below!